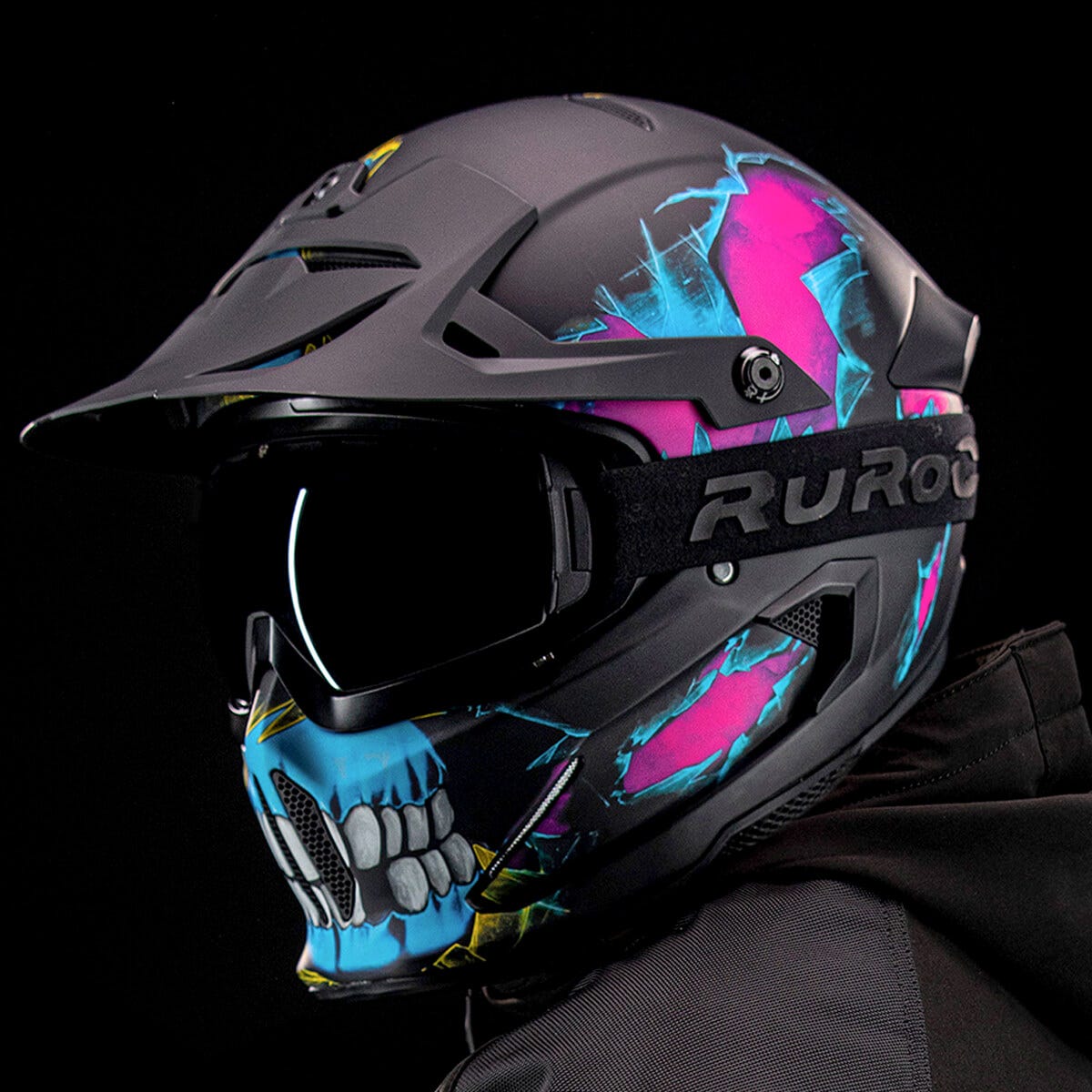 Perhaps the single most irreplacable piece of personal protective equipment for OHV riders are their helmets and goggles. You can sometimes get away with wearing substitutes for other parts of your body armor, but there is nothing else that gives the protection your head needs. Head injuries are often very serious and even fatal and, unfortunately, are among the most common injuries associated with motorcycle and other OHV accidents.
Helmets should be properly rated to meet certain standards of protection. There are four primary rating systems: Snell, DOT, and ECE. Each one identifies the organization that established, maintains, and certifies helmets to their standards. Snell is the Snell Memorial Foundation. Its ratings are required by certain racing organizations. DOTis the United States Department of Transportation. ECE is the Economic Commission for Europe. Helmets that do not have at least one of these certifications stickers are considered to be novelty helmets and should never be considered safe. FIM is another rating system by a global motorcycle organization for helmets for track use.
Snell is perhaps the oldest and best recognized rating, even being sometimes considered to be the gold standard for helmets.
Any helmet used for off road activities or highway motorcyle riding should meet at least one of the accepted standards. If you have a helmet that does not meet any of these standards you should replace it with one that does as soon as possible -- before you actually need it protect your head in an accident. You don't want to put your head in a $10 helmet unless you only have a $10 head!

Helmets will not prevent all head injuries, but they will mitigate many of them. No matter how strong or safe a helmet is, the impact in any specific accident might exceed its level of protection. However, one thing is absolutely certain: NOT wearing an approved helmet will significantly increase your chances of serious or fatal head injuries in an OHV accident.
Certified helmets are not cheap. But it can be said you should only use a $10 helmet if you have a $10 head! The medical cost of any head injury will quickly exceed the price of a good helmet, without even counting loss of work income or pain and suffering.
Helmets come in open-face and full-face versions. Open face helmets are usually worn by riders on street bikes. Most off-road riders wear full-face helmets. Helmets are available with and without face shields. Even when I have had face shields I wear goggles for better eye protection. Street riders preference for open-face helmets may be due to a need for a greater range of vision in street traffic and off-road riders need the extra protection of the chin guard of full-face helmets. All I had was an open-face street helmet for my first couple of dirt bike rides, but I soon switched to a full-face helmet and I have always been glad I did. Many years ago I watched rider air-lifted from a remote forest service campground after he caught a low hanging branch in the face wearing an open face helmet. It nearly ripped is jaw off! To his credit, he was back on the trails the very next day but it was a very painful and expensive incident.

Helmets are pretty much only good for one hard crash. Once they have done their job they should be replaced. Even if the helmet isn't cracked or doesn't appear damaged, the shock absorbing material inside is likely to have been crushed. And while it has done its job absorbing the shock and protecting your head once, it won't be able to do it again. It is designed to be crushed to absorb the impact. It doesn't rebound. Unfortunately there is no non-destructive way to test a helmet to determine if it has been compromised. Better to replace it if you it has been hit hard. When purchasing used helmets look for deep scratches or scuffing or dings that might indicate it has been hit. Ask the seller about the helmet's history, but be cautious because they might tend to downplay any problems in order to try to sell it. If possible, buy only from someone you know and can trust.

Goggles are next on the list. Why? Well, eyes are fairly fragile and you only have one pair of them. If they get damaged you will likely be blind the rest of your life. Some riders like the fashionable appearance of sunglasses over goggles but sunglasses, even safety glasses, do not provide the same level of protection as goggles. Sunglasses allow air flow around the edges, which can deliver damaging bits of debris into your eyes/ Properly fitted goggles block that air flow. When riding in bright sunlight it is helpful to wear sunglasses under your goggles if they will fit or wear tinted goggles. Avoid wearing tinted goggles in late evening. Auto-darkening lenses are available so you can wear the same goggles in bright sunlight, with darkened lenses, and after dark with clear lenses.
Goggles and face shields are prone to get scratched. You will want to do all you can to prevent that. Helmets usually come with a nice storage bag that can protect the face shield when you aren't wearing your helmet. Be sure to use it! Goggles often have cloth storage pouches too. If you lose yours or don't have one, use an old (clean) sock. Both goggles and face shields can be cleaned with plastic polish to remove light scratches and restore clarity. I use a 3-step product from Novus. One bottle is for heavy scratches and contains fairly coarse granules. The second step has finer granules, and the final step has really fine granules to polish the surface. Goggles and face shields can also fog up on cold, humid days. Anti-fog preparations can help reduce fogging. The best one I've seen is called Cat Crap and it comes in both spray and cream forms. Sometimes, in a pinch out on the trail, you might try the old diver's trick of spitting on the inside of your googles to help reduce fogging.

If your OHV PPE budget is limited, focus first on a good helmet and goggle system. Substituting ordinary work boots and gloves for riding boots and gloves increases your risk of injury in an accident and may not be comfortable, But the risks of injry no where near as much as not having proper, certified head and eye protection.
Heads up!