Bungie cords are very handy and have many uses when camping.
You'll find dozens of uses for them in your RV, toy hauler, and around camp. You can wrap them around sleeping bags, tents, tarps, and awnings to keep them under control when they're rolled up. You use them to secure items inside your RV or trailer so they don't bounce around on the road. You can even use them as belts or suspenders.
Finding a good place to anchor bungee cords in a motorhome or trailer is often difficult.
Sometimes you can use existing brackets for curtains or shades, but as often as not, those brackets aren't designed for the loads you'll be putting on them and you may break or bend them, or pull them out of the wall. Ordinary cup hooks can be used where you have solid place to screw them in but I prefer to use marine eye straps or rope guides. They fasten on with two screws and have no open ends sticking out to catch things on. They're more expensive than cup hooks, but they are also sturdier, more secure, and easier to use. You can get cup hooks at any hardware store. You may have to go to a marine supply store for eye straps/rope guides or order them online. I've used both plastic and stainless steel versions and both provided satisfactory service in my RVs.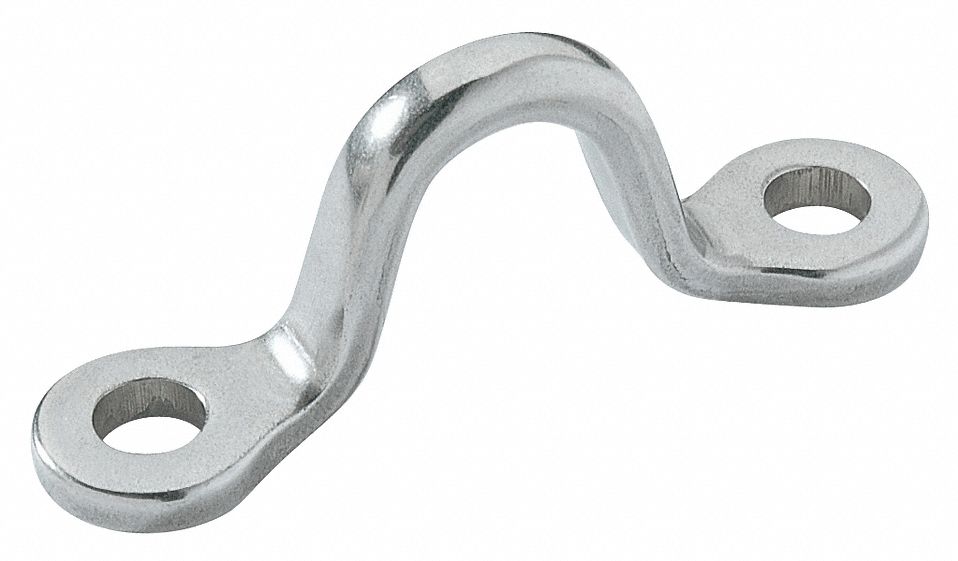 Have a cabinet that keeps coming open on the road?
You may be able to secure it with a bungie cord. Sure, it takes a little extra time every time you need into the cabinet, but compared to the time it takes to gather up all the stuff that might fall out on the road and clean up the spills, its nothing. Just wrap a bungee around 2 or more cabinet door handles to keep them closed.
Bungie cords come in many sizes.
Most bungie cords are about 3/8" in diameter and typical lengths are 6", 12", 18", 24" and 36". Mini bungies are usually bout 1/8" in diameter and about 4"-6" long. They all have hooks on both ends. I have tried both plastic hooks and wire hooks and I like the wire hooks better. I find the plastic ones are often too large and clumsy to be easy to use. If you need a different length you can usually cut a bungee down to the size you need, reinstall the hook, then tie a new knot in the end. Some bigger bungies, like those used for securing loads on pick up trucks, are about 1/2' in diameter and several feet long. They also may come with either plastic or wire hooks. I prefer the wire hooks. They fit in more places and I've found them to be more durable than the plastic ones. Wire hooks will sometimes bend under stress, but plastic hooks may break.
Bungie cords usually last a fairly long time
but if you stretch them very tight and leave them that way for a while, they will stretch out and lose their usefulness. They can be used outdoors, but extended exposure to sun and weather will also significantly shorten their life.
Bungie cords are really helpful for anchoring tarps and awnings.
I use them to secure the lower edge of awning extensions on my RV awning. The top of the extension slides into the accessory rail on the awning or attaches to the awning roller with special hangers and "S" hooks. Using long bungies from the bottom edge to tent pegs driven into the ground keeps the extension taught and where I want it instead of flapping in the breeze. If you're making your own awning from tarps, bungies are the fastest and easiest way to anchor them. Pulling a tarp taught with rope or twine works too, but bungies provide some shock absorbing capability that keeps the tarp taught without over-stressing it and pulling out the grommets. Rubber tie down straps serve a similar function for securing a tarp over load on a vehicle. They are usually about 1" wide and 1/4" thick with "S" shaped metal hooks on both ends. They are usually stiffer than bungie cords, making them more difficult to use but more resistant to stretching out and getting loose.
Bungies are good for securing light loads on your OHV.
I keep one or two in my fanny pack or fender bag with my tools in case I need to tie something down out on the trail.
You can adapt bungie cords to replace a lost or broken belt
or fashion suspenders to hold your pants up. Perhaps not the most fashionable of accessories, but very functional. You might use bungies as a sling for a broken arm or to secure bandages. In a dire emergency, a bungee might be used as a tourniquet. Be aware that current medical thinking only recommends the use of a tourniquet in extreme situations where there is no other way to control life-threatening bleeding. Where you once were told to release the tourniquet every 15-20 minutes they now say to leave it. Releasing it may allow contaminated blood from the isolated limb back into the system and cause severe problems.
In summary, bungie cords are one of the most versatile and useful accessories you can add to your camp kit.
I try to keep a good supply on hand -- in my motorcycle trailer, in my RV, and in my tent camping stuff. You can find them at department, hardware, and camping stores. Sometimes I find packages of them at my local dollar store and it is a really good $1.00 investment. Each packages usually contains 2 each of 3 different lengths. I always like to stock up and buy several packages when I find them there. There is always someplace to use a bungie cord. I have a dedicated rack in my enclosed motorcycle trailer where I hang a bunch of bungee cords and keep an ammo can filled with bungies in my motorhome.
Tie one on!